Hi guys!
My name is Davor, and I plan to launch a unique NFT collection to fund my biotech startup. Read this blog post to learn how you can be involved in this one-of-a-kind NFT launch.
IMPORTANT: This blog post is not intended for the people inside the alternative protein industry like the rest of the website is. It's more geared towards the NFT / crypto / metaverse community.
Imagine Elon Musk launching Tesla NFTs for the Tesla Roadster in 2008 😲
Imagine NFTs existed at the time Elon was building Tesla's first Roadster. And imagine if instead of taking $1.000 deposits as pre-orders, he sold 2021-looking super-cool NFTs to act as a Roadster pre-order. Wouldn't that be a more awesome way to get pre-orders? Yes. But more importantly, just think for a second of how much just the floor price of these NFTs would be today. My guess – at least 100 ETH! 😂
That's actually what I want to do with my startup, ahead of our "Roadster" launch.
ANJY MEAT is a cultivated meat company. We make real meat, but without having to breed and slaughter animals. The meat we make is actually vegan. We harmlessly take some cells from a live animal and then grow them in a bioreactor to make real meat. This cruelty-free and sustainable way to produce meat is the future. But it's still super early. Learn more about cultivated meat.
Cultivated meat opens up new possibilities. You are not limited to traditional animals like cows and pigs. The only reason humans currently eat these specific animals is that they were the easiest and most convenient for industrialized farming and slaughtering on a massive scale. But when you make meat out of cells in a bioreactor, you can make meat out of any animal.
Our long-term mission is to produce traditional meat like beef and chicken. Our mission is to "save the world" and the animals. But to immediately start with a cultivated beef burger is a recipe to bankrupt your startup. Just like how Tesla could've not started with a more affordable model 3.
That's why our "Roadster" product will be a high-priced premium meat product – a lion burger!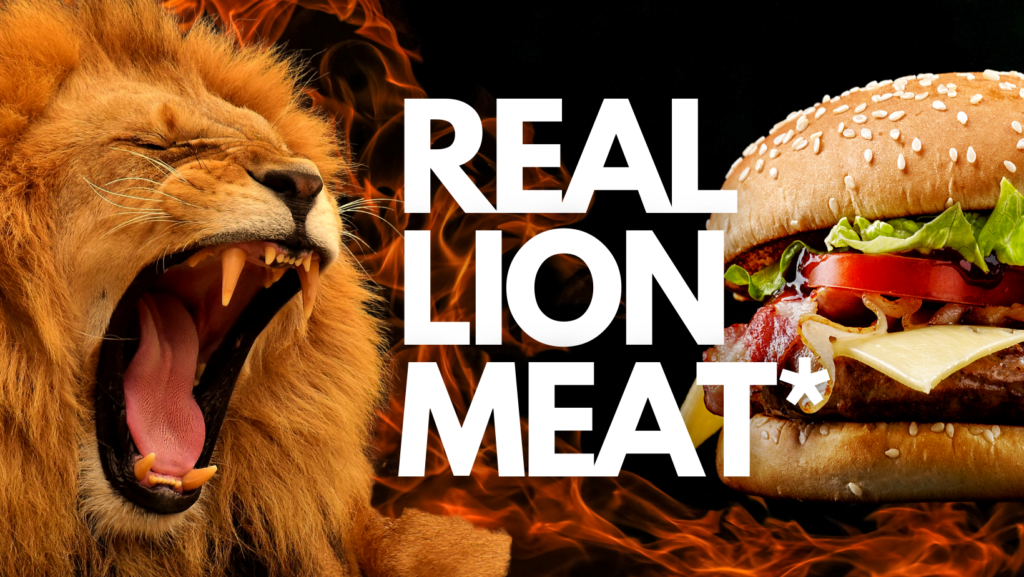 Yes, we will start by offering a meat product that can capture attention like no other. Who doesn't want to try real lion meat, knowing no lions were harmed or killed?! It's the ultimate braggable dish you could possibly order.
We will only make X.000 in our first batch, and our customers will get them delivered in late 2023 or early 2024.
Why will you want to buy our NFTs?
I love NFTs and hold many of them! I think NFTs are the key to the digital economy of the future. And I want to offer the NFT community something genuinely unique and one-of-a-kind – a chance to participate in the early growth of ANJY MEAT.
ANJY MEAT needs money to develop our tech and first product. Launching our NFT collection is the absolute best way to achieve our goals and to give massive value to our early supporters.
Our NFT collection will have 10.000 unique 1:1 artistic lion avatars. The rarity will be precisely distributed. Actual NFTs will be revealed to everyone after the sale is over. The price will be high, but we haven't yet decided how much exactly.
*what will NFT holders get*
NFT launchers, creators and collectors – let's partner up!
I'm looking for top partners to make this unique NFT launch a massive hit. People with experience in launching this kind of project, leading artists, influencers, even celebrities – let's talk! I am open to ideas and welcome exceptional people from the NFT, crypto and digital artist world.
Please fill out the following form below, and let's schedule a call to discuss this further.
NFT badass? Fill this form out!
Let's make a unique NFT launch.
Want to learn more about our unique strategy? Watch the 12-minute presentation below: